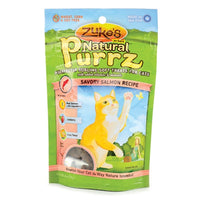 Zukes Natural Purrz - Savory Salmon
Finally a healthy alternative to traditional cat treats. Natural Purrz are tender meaty bites of all-natural goodness. Natural Purrz offer the nutritious benefits of chicken, salmon, spelt, soy, malted barley and fish oil. Never any wheat, corn, artificial colors, flavors, BHA, added tallow or by-products. In either Tender Chicken or Savory Salmon flavors Natural Purrz will keep your purring with delight.

Available in 3oz bags.

Salmon or chicken, barley flour, rice flour, vegetable glycerin, malted barley, tapioca, gelatin, water, menhaden fish oil, brewer's yeast, natural flavors, lecithin, cultured whey, acetic acid, salt. Vitamins: A, D3, E, B12, C, B2, B1, B6. Minerals: taurine, calcium pantothenate, niacin, folic acid, zinc oxide, selenium.

Crude Protein minimum 17.50%
Crude Fat minimum 7.50%
Crude Fiber maximum 3.00%
Moisture maximum 30.00%