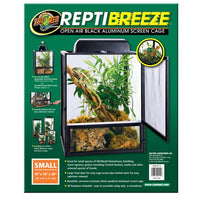 ZooMed ReptiBreeze Enclosure
ZooMed ReptiBreeze Enclosure is an open air enclosure made with aluminum that has screened sizes and is great for small species arboreal lizards who need lots of ventilation. This cage has an easy to open large door and small bottom door for easy cleaning and substrate removal. It is corrosion resistant so can stand up to even high humidity arboreals.
Comes in multiple sizes.