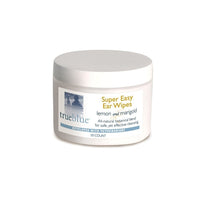 TrueBlue Super Easy Ear Wipes
TrueBlue Super Easy Ear Wipes (with lemon, marigold, aloe vera and green tea) are great for safely cleaning away dirt, wax, and debris that can lean to infections.
- Lemon cleans while promoting healthy blood vessels.
- Marigold softens and soothes the delicate skin in your pet's ears.
Water, Witch Hazel, Isopropyl Alcohol, Glycerin, Boric Acid, Grape Seed Extract, Peppermint Leaf Extract, Chamomile, Green Tea, Marigold, Organic Aloe Vera, Apple Fruit Extract, Sugar Cane, Lemon Fruit Extract, Natural Preservatives.