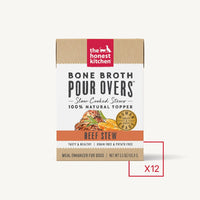 The Honest Kitchen Bone Broth Pour Overs Beef Stew Dog Food
We believe that variety is the spice of life. That's why we created Bone Broth Pour Overs. This human grade, tasty pourable stew is full of meaty goodness in a bone broth reduction and boosts their bowl with an extra helping of protein. With a wide variety of flavors, just a few ingredients, and an easy-to-use box, you can easily boost their bowl every day with our full line of Pour Overs.
BOOST PROTEIN: Made with diced ranch raised beef and carrots in a savory bone broth, these chunky meal enhancers give an added boost of protein for dogs of all ages & breeds.
TASTY DOG FOOD TOPPER: Mix it up at mealtime by pouring these over your pup's favorite meal to add a healthy boost of nutrition.
Human Grade

Made in the USA (with US & globally sourced ingredients)

No artificial preservatives, feed grade by-products, fillers, GMO ingredients, corn, wheat or soy

Vet recommended
Beef Bone Broth, Beef, Carrots, Butternut Squash, Tapioca, Thyme, Sage
| | |
| --- | --- |
| Calories | 107 |
| % Protein | 5 |
| % Fat | 2.5 |
| % Fiber | 1 |
| % Moisture | 90 |