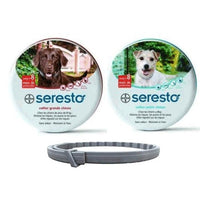 Seresto Flea and Tick Collar for Dogs
Bayer Seresto Flea and Tick Collars for Dogs will kill fleas, repel and kill ticks and is non-greay, oderless and easy to use by combining two active ingredients to keep fleas and ticks off your pets for up to 8 months! This collar will automatically apply a dose of ingredients onto your pets coat and once those ingredients ware away (roughly a month) it will automatically apply another dosage! Seresto collars are water resistant. Yet it is recommended that your pet isn't exposed to water (bath or swim) more then once a month. Anymore more then that and Seresto may only last roughly 5 months.
The dog collars come in two different sizes. Each collar can last up to 8 months! Each collar is adjustable and extra collar should be trimmed off with scissors.
Small Dogs - 7 weeks of age or older and up to 18lbs.
Large Dogs - 7 weeks of age or older and over 18lbs.
Ships within 2-3 business days.
-Imidacloprid has been used in products recommended by veterinarians for years to control flea infestations.
-Flumethrin works to repel and kill ticks. Already used in Europe, this effective active ingredient now comes to the US.