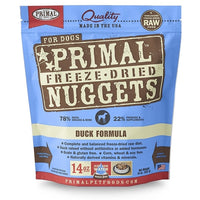 Primal Freeze Dried Canine Duck Formula
Primal Freeze Dried Canine Formulas are 100% complete and balanced mealsthat are appropriate for all life stages. Fresh protein and groundbones are used for their natural nutrients!  Organic produces is addedto help add vitamins A, B-complex, C and D. Cold-Water fish helps givethis meal omega-3 fatty acids for skin and coat health. 100% grain free,freeze-dried formula!
Available in 14oz bags.
Ships within 2-3 business days.
Duck, Duck Necks, Duck Wings, Organic Kale, Duck Hearts, Duck Gizzards, Organic Carrots, Organic Squash, Duck Livers, Organic Broccoli, Organic Apples, Blueberries, Cranberries, Organic Pumpkin Seeds, Organic Sunflower Seeds, Montmorillonite Clay, Organic Parsley, Organic Apple Cider Vinegar, Salmon Oil, Organic Coconut Oil, Organic Quinoa Sprout Powder, Dried Organic Kelp, Alfalfa, Vitamin E Supplement, Mixed Tocopherols (natural preservative)..

Crude Protein (min) 42%
Crude Fat (min) 30%
Crude Fiber (max) 5%
Moisture (max) 3%

Calories: 155 per oz. and 1 ounce = approx. 4 nuggets