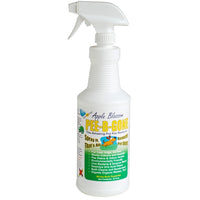 Pee-B-Gone All Natural Pet Pee Digester and Deodorizer Spray
Pee-B-Gone is a spray that can be used to help break up bacteria that can cause odors from urine and feces. This spray doesn't have to be scrubbed into the surface to work, just simply spray and walk away. Make sure to pat up any excess liquid after 30 mins. The micro-organisms in this spray are alive and will aggressively digest bodily fluids! This formula is 100% free of any pathogenic or disease causing bacteria which makes it safe for both pets and humans!
Available in 32oz bottles and 3 scents.
Ships within 3-5 business days.