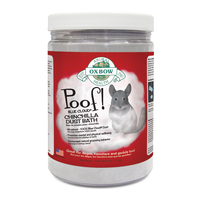 Oxbow Poof! Blue Cloud Chinchilla Dust
Chinchillas have a natural grooming behavior that can be encouraged through the use of Oxbow Poof! Blue Cloud Chinchilla Dust!  Grooming helps to keep their coats well maintained and it is also a part of their mental well-being too.  Blue Cloud Dust is actually collected through a sustainable process and is absolutely NOT the dust that is left over from explosives, strip mining or tunneling like other grooming dust products.  And if you are a gardener you can recycle the left over dust and use it in the garden!!  Now that is a great earth-friendly product!!  May also be used for degus, hamsters or gerbils too.
Available in a 2.5 lb container.
Ships within 2-3 business days.