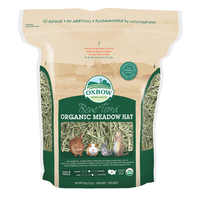 Oxbow Organic Meadow Hay is 100% certified organic and grown naturally without the use of any chemicals or pesticides!  Meadow Hay is comprised of a variety of naturally occurring grass hays that provide a nutritious, fragrant and flavorful texture that your small herbivore will just love!!  Organic Meadow Hay is perfect for rabbits, guinea pigs, chinchillas, tortoises and other small herbivores.  Make sure to provide hay for your small pet everyday in their diet to provide the essential fiber that they need for a healthy digestive system!
Remember to always store hay in a cool, dry place, out of direct sunlight and in its original packaging. No refrigeration or freezing is required. If you choose to store in another container, be sure it has proper ventilation.
**Some large bags (25lb and 50lb) will contain loose grasses, seed heads, and other pieces. Please contact Oxbow Animal Health directly with any concerns you have about other grasses found in the products.

Available in a 15 oz package.



Ships within 2-3 business days.




Crude Protein min ....................... 7.00%
Crude Fat min ............................. 1.50%
Crude Fiber max .......................... 32.00%
Moisture max ............................... 15.00%