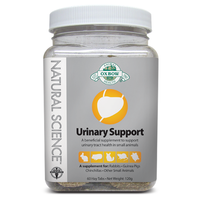 Oxbow Natural Science Urinary Support
Natural Science Urinary Support is a high fiber supplement made with a blend of cranberry and dandelion leaf and other beneficial herbal ingredients to support proper urinary health and function.  This supplement is the perfect choice if you have small animals such as rabbits, guinea pigs or chinchillas.  Urinary health and wellness are very important especially in small animals and one of the best ways to ensure that they are getting the very best is to choose Oxbow Natural Science supplements.  Made in the USA!!
Available in a 60 count bottle.
Ships within 2-3 business days.
Timothy grass, barley flour, oat groat flour, cane molasses, flax seed meal, guar gum, mixed tocopherols (preservative), rosemary extract

Glucosamine (Plant Based) ................................ 45 mg
Marshmallow Root ............................................ 45 mg
Manna Oligosaccharide (MOS) ........................... 40 mg
Astragalus Root ............................................... 18 mg
Cranberry ...................................................... 18 mg
Dandelion Leaf ............................................... 18 mg
Pumpkin Seed ............................................... 9 mg
Docosahexaenoic Acid (DHA) .......................... 2 mg