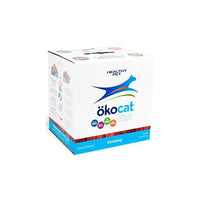 ökocat Natural Wood Clumping Litter
ökocat Natural Wood Clumping Litter is healthy pet's premium fast and firm clumping natural cat litter in soft, ground pellets. Tested performance for long lasting odor control and unsurpassed absorption with the added benefits of being naturally lightweight, biodegradable, and flushable.

Odor Shield™ is aproprietary odor fighter designed to interact and bond with the odor causingproperties of cat waste, blocking the formation of ammonia, the primary cause oflitter box odor. It piece is firm on the outside and soft in themiddle.
Milled Grain suppresses ammonia odor longer than clay litter. The naturally occurring carbon binding sites and powerful grain enzymes work together toneutralize ammonia vapors. No chemicals or perfumes are used to mask offensive odors.

Healthy Pet is interested in your health. To help prevent the spread of disease sometimes transferred in fecal matter, they recommend against discarding used litter in your garden or compost bin. They also suggest that youa void direct contact with used litter, especially if you are pregnant. Always wash your hands thoroughly after tending to the litter box. Litter material made from plant fiber may be toilet-flushed in small quantities. (The state of California encourages the disposal of cat feces from your indoor litter box in the trash and discourages flushing cat feces in toilets or disposing of them in storm drains.)

You can empty the entire box each week or manage it as you would a clumping clay litter by scooping out solid waste and wet spots. Scoops should be detergent washed each week, either by hand or in the dishwasher(suggested water temperature of 160 degree F), then air dried.

DAILY MAINTENANCE (For a regular user): Formaximum odor control and superior animal health, your litter box should becleaned at least once a day; twice a day is optimal.
Step 1: Clean & dispose - Health Plus absorbs liquid and forms into an easyto identify mass of moist particles.