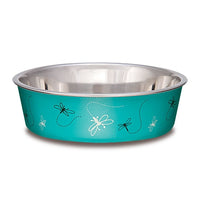 Loving Pets Bella Bowl Designer Dragonfly Turquiose Bowl
Loving Pets Bella Bowl Designers comes in a variety of styles and are made with stainless steel. There is a removable rubber base to help prevent the bowl from sliding across the floor as well as eliminates noise. These bowls are dishwasher safe (once the rubber bottom is removed). Comes in 3 different sizes.
Small: 5" in Diameter and 2" Deep
Medium: 6 1/2" in Diameter and 2" Deep
Large: 8" in Diameter and 2 1/2" Deep
*Each bowl has a small lip around the top of the bowl. This bowl may not be suitable for all elevated feeders since the lip isn't very long.
Ships within 2-3 Business Days!