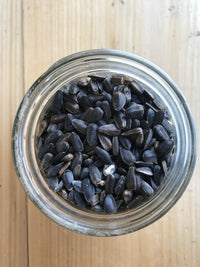 Ernst Grain Black Oil Sunflowers, Non-GMO
Non-GMO Black Oil Sunflower Seeds. We store these grains in our bulk, grain bins to be able to provide year-round for many uses. Our black oil sunflower seeds come in 40lb bags and are perfect for feeding birds and other wildlife!

These grains are proudly bagged at Ernst Grain & Livestock, a 7th generation family farm in Clear Spring, MD. Many of the grains sold from our farm are grown in our fields by our family. We even feed these grains to our own animals! We are known for being the producers of Homestead Harvest Non-GMO Feeds, a high-quality line of chicken and livestock feeds. Follow our farm and learn more about what we do on our social media pages. Be confident in your grain source by purchasing this product from EG&L!
Sourced from Ernst Grain & Livestock, a 7th generation family farm

Cleaned Black Oil Sunflower Seeds

High in protein and fat content - a nutrient dense grain

Feed a large variety of wild birds - Cardinals, Chickadees, Finches, Nuthatches, Woodpeckers and more