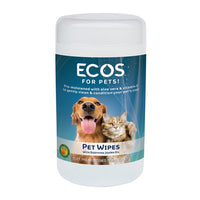 Earth Friendly Pet Wipes are formulated to help you quickly wipe up pet messes. These all natural wipes can be used for cleaning dirty paws, faces, ears and other body pets and are great for pets with skin allergies. These wipes are completely plant based and hypoallergenic.
Ships within 3-5 business days.
Water, Cocamidopropyl Betaine (coconut-derived surfactant), Limonene (Orange) Oil, Phenoxyethanol (preservative), Sodium Isostearoyl Lactylate (plant-derived, food grade emulsifier), Triticum Vulgare (Wheat) Germ Oil, Simmondsia Chinensis (Jojoba) Seed Oil, Aloe Barbadensis (Aloe Vera) Leaf Juice , Methylisothiazolinone (preservative), Tocopherol (Natural Vitamin E) oil, Natural Fragrance.