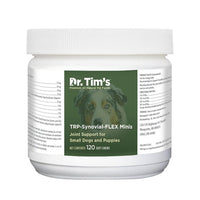 Dr. Tim's TRP-Synovial-FLEX Minis Small Breed & Puppy Joint Support Dog Supplement
Dr. Tim's TRP-Synovial-FLEX Minis Small Breed & Puppy Joint Support Dog Supplement helps keep your petite pup comfortable and moving like they're young again! This joint supplement is formulated to both support healthy joints and flexibility while also providing pain relief. Using a blend of proven active ingredients like perna canaliculus, MSM, glucosamine, omega-3 fatty acids, and a proprietary blend of antioxidants, vitamins and minerals and more, these are ideal for both small-breed senior dogs, active canine athletes or puppies 
This chicken flavored supplement can be used to maintain supple joints and ease discomfort caused by both exercise and joint conditions. They come in a tasty soft chew that most dogs will think is a treat and not a supplement.
For animal use only. Keep out of reach of children and animals. In case of accidental overdose, contact your health professional immediately.
Dr. Tim's supplements are formulated through the efforts of a canine nutritionist who holds a Ph.D. and a practicing small animal veterinarian with extensive experience in dog sports.
Active Ingredients: Glucosamine HCl (Shellfish) 175 mg, Methylsulfonylmethane (MSM) 175 mg, Creatine Monohydrate 90 mg, Perna Canaliculus 52 mg, Proprietary Blend of Alpha Lipoic Acid, Citrus Bioflavonoids, Grape Seed Extract, Manganese Sulfate, Sodium Selenite, Zinc Sulfate 45 mg, Eicosapentaenoic Acid (EPA) 3 mg, Ascorbic Acid (Vitamin C) 2 mg, Docosahexaenoic Acid (DHA) 2 mg, Vitamin E 9 IU.

Inactive Ingredients: Chicken Meal, Corn Starch, Dried Chicken Liver, Glycerin, Lactic Acid, Lecithin, Maltodextrin, Mixed Tochopherols, Potassium Sorbate, Sodium Benzoate, Soybean Oil, Wheat Flour.