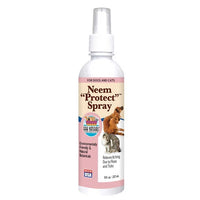 Ark Naturals Neem Protect Spray for Dogs and Cats
Ark Naturals Neem Protect Spray for Dogs and Cats is an environmentally friendly all natural spray meant for use on any itchy pet to soothe irritation and dry skin by removing dirt, oil and sebum from the animals coat. Neem and citronella oil both have natural anti-inflammatory properties that help soothe dry skin and bug bites.
USE WITH CAUTION ON CATS Citronella can cause adverse reactions with cats. Do not apply to cat's face. Test product on cat's hindquarters and wait 24 hours. If no adverse reaction, it's OK to use.
Active Ingredients:
Neem oil, citronella

Inactive Ingredients
Water, polysorbate 20, aloe

For animals with skin and coat irritation, begin by bathing animal with Neem "Protect" Shampoo. After animal's coat has dried completely, generously spray Neem "Protect" Spray from head to tail. DO NOT SPRAY IN OR AROUND ANIMAL'S EYES, NOSE OR MOUTH. Spray directly on insect bites and areas that are irritated and inflamed.

Follow Up: Spray animal every 7-10 days as needed. Use on a regular basis during warmer months, and for animals that spend time outdoors in tall grass or wooded environments. Neem "Protect" Spray is water soluble and must be reapplied each time animal is completely wet.