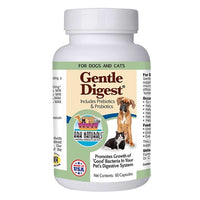 Ark Naturals Gentle Digest Capsules for Cats and Dog
Ark Naturals Gentle Digest Capsules for Cats and Dogs is a natural herbal supplement that contains pre-and pro-bitotics that help promote the health and growth of good intestinal bacteria. By promoting healthy gut bacteria, this supplement supports your pets over all immune system and intestinal balance and helps prevent excessive gas and irregular stools.
Active Ingredients:
Inulin (dried chicory root), dried bacillus coagulans (dried fermentation product)

Inactive Ingredients
Dicalcium phosphate, gelatin (capsule), magnesium stearate, rice flour

Helpful to support intestinal balance and a healthy immune system. Helpful for periodic issues with gas and flatulence, smelly and irregular stools. Helps to support digestion and absorption of critical nutrients and senior pets and pets under stress.