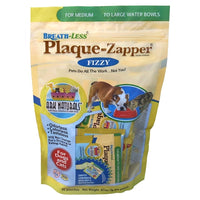 Ark Naturals Breath-less Plaque-Zapper
BREATH-LESS Plaque-Zapper patent pending is a hassle-free way pet guardians can help their pets have healthy teeth and gums. Putting Plaque-Zapper in your pets' drinking water helps neutralize the pH level of saliva, deter the growth of bacteria, and control plaque, tartar, and bad breath.
Simply pour one packet of Plaque-Zapper into the pet's drinking water daily. Each diluted packet lasts for up to 8 hours. Totally odorless, colorless, and tasteless, your pets will not even notice the difference in their drinking water! Formulated by veterinarians, Plaque Zapper is one of the easiest ways to help your pets stay dentally healthy.
For maximum benefit, use with BREATH-LESS Brushless-ToothPaste.
Active Ingredients:
Lysozyme, glucoxidase, amylase, papain, amyloglucosidase, peptizyme, lactoferrin

Inactive Ingredients
Maltodextrin, citric acid, sodium bicarbonate

For dogs and cats 12 weeks and older. Empty one packet each day in your pet's drinking water support dental health and control plaque, tartar and bad breath. Therapeutic Use: 2x daily for 4-6 weeks, then once a day for maintenance. Odorless, colorless and tasteless. Small/Medium packets appropriate for small to medium pets and multiple small pets sharing a water bowl. Available in two sizes Small/Medium and Medium/Large.