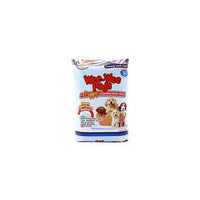 Four Paws Pet Products Wee Wee Pads
Four Paws Wee Wee Pads are super absorbent and scientifically treated to attract puppies when they need to relieve themselves. They are a great tool for training or used for everyday use for housebound pets. The pads have a quick dry top layer, super-absorbent core and a leak proof liner to keep your carpets and floor clean. In fact, Four Paws has given a guaranteed satisfaction on these pads that they will not leak. Each pad measures 22.5"x23".

Ships within 2-3 Business Days!